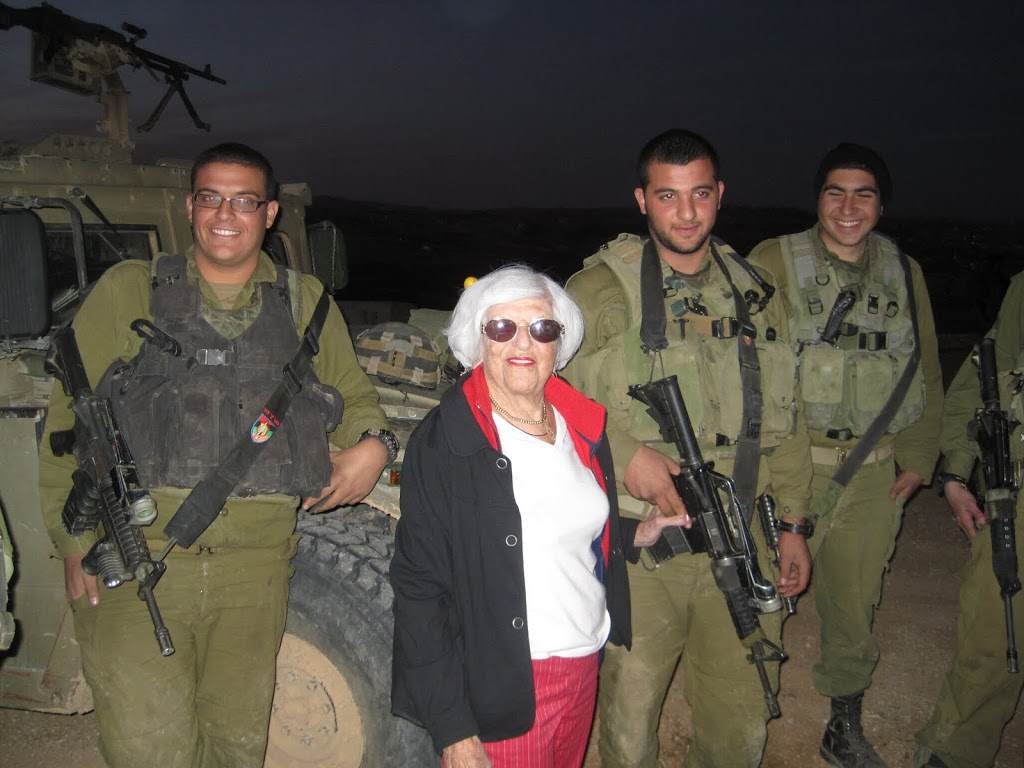 Dudu
On our Israel tours a bus driver is assigned to us for the entire trip. Our driver this time was Dudu.Dudu was a tall, handsome and well-groomed man from a family of Kurdish Jews. Dudu possessed breathtaking skill at maneuvering a full-sized bus through streets that had never been intended for cars, let alone busses. What Dudu didn't possess was the ability to ever acknowledge when he made a wrong turn or didn't know where he was going. Dudu was one macho Israeli dude. The bus driver and the guide work as a team, and Aliza had her hands full with Dudu, but Aliza was tough. Since I sit in the front of the bus, I enjoyed listening to their spirited banter, glad that arguing with Dudu was not my job. Dudu was really tested as we climbed into the small mountaintop city of Ts'fat (Safed).Somehow he backed the bus up the winding alley to our hotel, and we settled in for the night.
Ts'fat: Painful Contradictions
The next morning, we wandered the alleyways of Ts'fat on foot. We began our day visiting the studio of Avraham Loewenthal, an artist originally from Detroit whose spiritual seeking led him to this holy Jewish city some years ago. Avraham is a sweet soul who is part of the community of artists and seekers that give Ts'fat its bohemian air – like Woodstock in certain ways, but where the spiritual tradition is Kabbalah, and where 400-year-old synagogues are named for the spiritual masters who once communed with the Infinite within their sanctuaries and out in the fields below the town.Avraham gave an excellent thumbnail introduction to Kabbalah: Kabbalah is the level of Judaism that sees Divine purpose in everyone and everything. From the limited perspective of each of our individual lives, this Divine purpose is mostly not apparent. But with practice we can become more adept at imagining and trusting the Divine perspective, and from that broadest (or deepest or most elevated) perspective, there is only God, animating reality at every moment. The faith and conviction of Jewish mysticism is that the infinite energy of Creation is love; God is a God of love. An inspiring piece of Avraham's artwork will soon be hanging in our sanctuary. I'm really looking forward to having a bit of Ts'fat energy in our own synagogue.
Or am I? In addition to being a wellspring for the best of our religion, Ts'fat is also currently in the news as a source of the worst that Judaism has to offer. Ts'fat is home to the Ts'fat Academic College, a fast-growing regional college in the Galilee. The population of the Galilee is fairly evenly divided between Jewish and Arab citizens, and many Israeli Arabs travel from their villages to Ts'fat and enroll in the college, which boasts a very mixed student body. There is very little student housing at the college, so students look for apartments to rent. Recently Eli Tzvielli, an elderly Jewish man, rented a part of his house to three young Arab students. The chief rabbi of Ts'fat, Shmuel Eliyahu, happens to be Eli Tzvielli's neighbor. In early December Rabbi Eliyahu published a religious ruling prohibiting the renting or selling of property to Arabs. His call was rapidly picked up by 47 other municipal chief rabbis who issued similar edicts in their small towns and suburbs around Israel. Not surprisingly, the religious rulings were justified by predictable expressions of racism, such as Arab men posing a "danger" to Jewish women. (Compare this, for example, to the rationale for the Jim Crow laws in the American South.) Israeli government officials' response to this sickening course of events was tepid at best, and this lack of response predictably gave the green light for incidents of violence against Israeli Arabs around Israel, including in Ts'fat. In an encouraging response, more than 750 rabbis signed a petition circulated by Rabbis against Religious Discrimination that condemns the religious ruling. However, the ugly face of fear and racism in Israel had revealed itself, initiated from the traditionally holy city of Ts'fat. So which will it be: is our God a God of love or a God of hate? I know that it is up to us, not God, to answer that question.
On the Lebanese Border
Later that day we rode up to Kibbutz Malkiya, which hugs the hilly border with Lebanon. This is one of those scenes that will be difficult to convey in words, and why a visit to Israel is so worthwhile. The winter is quite chilly in these highlands. The fruit orchards and forested slopes of Kibbutz Malkiya extend right up to the border fence. In stark contrast the Lebanese side of the fence is a wide-open landscape, crosshatched with dormant opium fields. The drug trade is extremely strong in this weak and beleaguered country. The income from the cash crop of opium funds the various militias that vie for power in Lebanon. Among these groups is the Hezbollah, meaning the Party of God, who are sworn enemies of Israel. While the UN is theoretically in charge of the Lebanese territory adjacent to the border with Israel, the Hezbollah continues to arm itself with missiles in this region. Our group surveys the scene from next to an army pillbox that sits on a rise, from which we can see most of northern Israel, as well as a modest distance into southern Lebanon. We stand in full view of a concrete watchtower on the facing hilltop in Lebanon; the border is quiet these days, but always tense*.
We are here to meet some young Israeli soldiers who patrol the border. They roar up in their armored Humvees and are proud and eager to give us a demonstration. Removing their ammunition clips from their rifles, the soldiers act out an "action", running, taking cover, and "firing" on the enemy. The entire scene makes me immediately queasy. I have never served in the army or even handled a rifle, and my entire life has been lived outside of any conflict zone. If I am to be honest with myself, I don't even want to see this. Of course I understand and fully support Israel's need for these boys to be ready to fight, and furthermore, we came to Israel to learn about the entire picture here, not just the feel-good moments. But that does not change my emotional reaction to the war game I just witnessed.
Fortunately, we now get to meet the unit. And fortunately, we have in our group our ambassador of good will, Faye Pittelman. Faye is 94, and is known to all as Toots. Toots is the oldest person I have ever traveled with, and the most consistently upbeat person I have ever met. Toots has no ambivalence about praising these soldiers. She thanks them eloquently, and they hug and kiss her.Toots explains that she has been working for the upbuilding of Eretz Yisrael for 80 years. 80 years!And now she sees her dream of a Jewish homeland realized, and she has brought her son Steve and daughter-in-law Elise, and her great granddaughter Rachel to see the dream come true. I say a prayer: Thank God for Toots.
I ask the soldiers to introduce themselves, and tell us from which countries their families originated: Latvia, France, Morocco, Kurdistan, Russia, Iraq… Israel truly is an ingathering of the exiles. There is also a Druze in the group. The Druze are a sect of Arabs who live in the region and practice their own religion. Druze who live in Israel regularly choose to serve in the armed forces. We then get to deliver our gifts, great quantities of chocolate and junk food, along with gloves and hats and t-shirts that our travelers had prepared for the soldiers. As night falls we are all mingling animatedly; I especially note the interest being paid by the soldiers to our wonderful contingent of teenage girls.Some things will never change.
*Lebanon's recent history is extremely complex; just this week Hezbollah ministers abandoned the shaky governing coalition and brought down the Lebanese government. Israel has played a major role in some of Lebanon's upheavals. It would require a detailed essay even to begin to do justice to the subject of Lebanon and Israel, and so I have chosen not to address the topic in this essay.