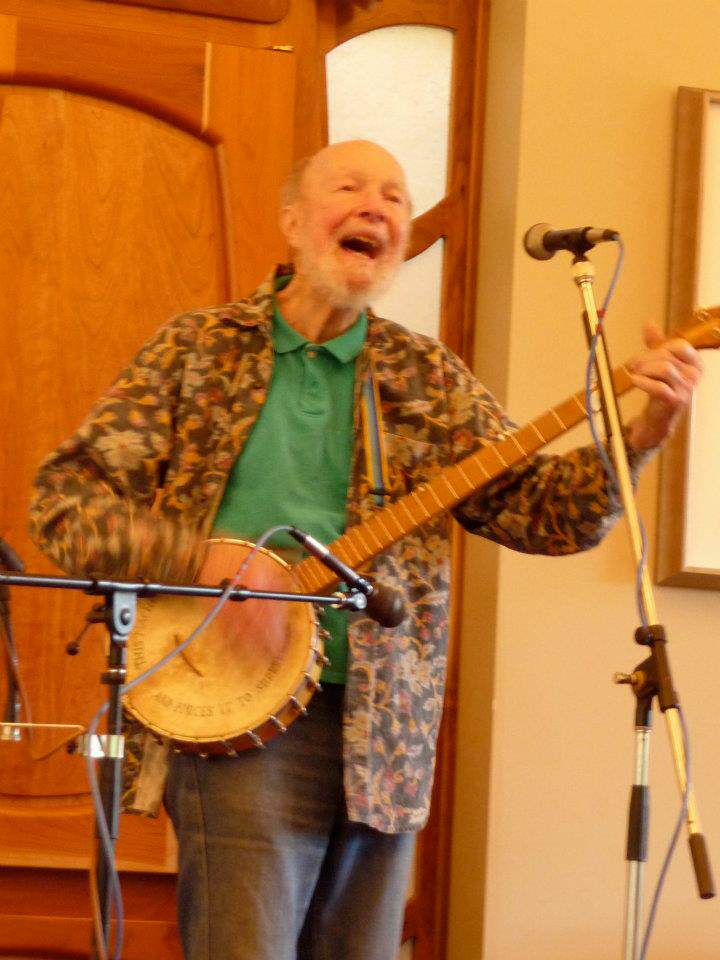 Dear Friends,
Yes that's right, that's Pete Seeger on our bimah! On Sunday, May 20 we hosted a benefit concert for Kim and Reggie Harris and their dear friends and neighbors Terry Leonino and Greg Artzner, a.k.a. the musical duo Magpie. They are all still paying off the repairs that their adjacent properties in Schoharie County suffered when Hurricane Irene blew through. Betty Boomer, of Betty and the Baby Boomers (also in the picture above) organized the event, and we offered our lovely sanctuary. Roger the Jester came, too, as did Wanda Fischer from Albany.
Anyway, 93 year-old Pete showed up with his banjo and said, "Do you mind if I play a song?" No, we didn't mind! I have been listening to Pete Seeger records since I was a baby, and living in the Hudson Valley all these years has given me the happy opportunity to cross paths with Pete on numerous occasions. But having him show up at our synagogue tops them all.
Afterwards Pete and his out of town friends needed a bite. Betty had cooked, and I pulled out a variety of delicious leftovers from our synagogue retreat the day before, and we all sat in one of classrooms and talked and sang and laughed some more. Everyone was curious about the Hebrew alphabets posted along the walls.
In the picture above, we are singing a finale with Pete, his song "Rainbow Race". Pete is truly a modern prophet – listen to these words that he composed in 1969:
Some folks want to live like an ostrich
Bury their heads in the sand
Don't you know that plastic dreams
Can't unclench all those greedy hands
Some want to take the easy way
Poisons, bombs, they think we need 'em
Don't you know you can't kill all the unbelievers
There's no short-cut to freedom
One blue sky above us
One ocean lapping all our shores
One earth so green and round
Who could ask for more
And because I love you
I'll give it one more try
To show my rainbow race
It's too soon to die!
I wish we had managed to get the word out better to all of you, but we didn't even know that Pete was coming! At least I can tell you about it now. Here's to the power of music,
With love,
Rabbi Jonathan
Here are a couple more photos to enjoy: