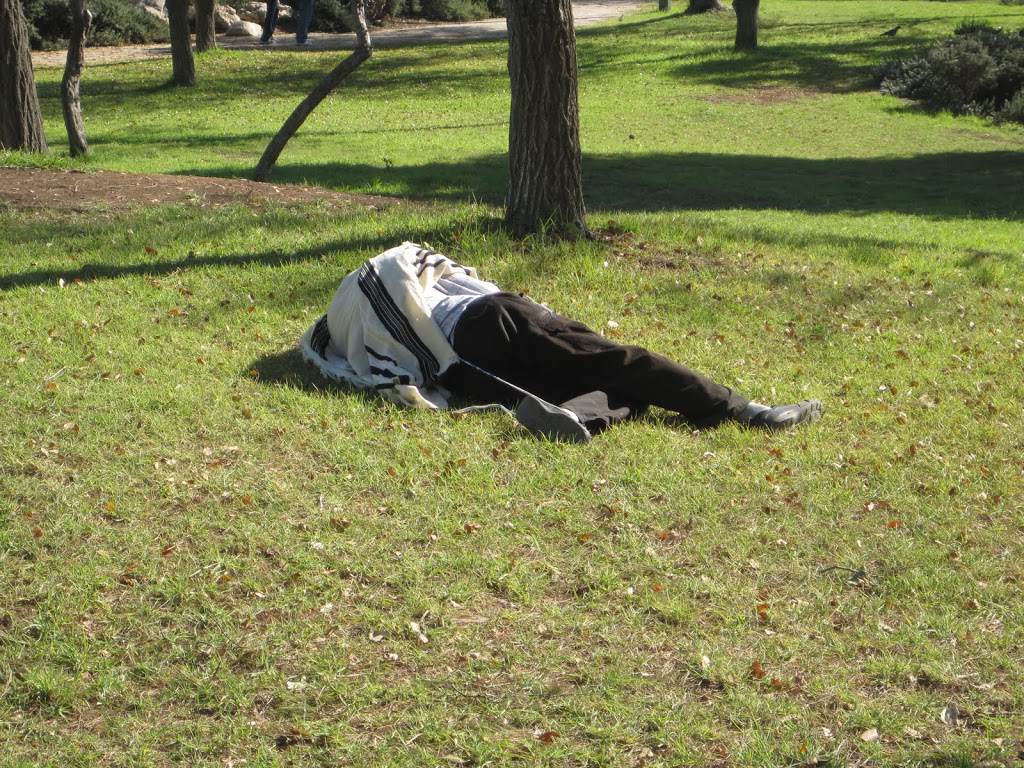 (The following series of posts are a partial account of the Woodstock Jewish Congregation's most recent trip to Israel, December 21-31, 2010)
Having spent 3 intense days immersed in a crash course of Jerusalem's past and present, I knew that Shabbat would be a special joy for our group. We gathered in the beautiful garden of our hotel as the sky darkened and we welcomed Shabbat with melodies and stillness. A long, cascading peal of church bells coming from the abbey on Mount Zion overwhelmed our silence: it was Christmas Eve! Then the muezzin's call to prayer sounded from a nearby mosque. This is Jerusalem. We pulled our coats close around us; the increasing chill was worth enduring as we watched the stars emerge above us. I asked if anyone wished to reflect on his or her experience thus far. One by one people spoke about how moved they had felt since arriving in Israel, and tears would spring up and surprise the speaker: "I had no idea how deeply this place would touch me"; "I have never understood why being Jewish was so important to my mother until now"; "I'm so grateful to be here". Shabbat had arrived at the perfect moment for our reflections, and we entered her gates gratefully.
The next morning I walked a good distance to Kehillat Mevakshei Derech, the original – and only – Reconstructionist synagogue in Israel. I was attending because Rabbi Jack Cohen was offering the D'var Torah (the sermon), and I wanted to pay my respects. Jack Cohen is 92 and slowing down after a hip fracture. He is a disciple of Mordechai Kaplan, colleague of Ira Eisenstein, and friend to many, including my parents. In 1960 Jack left his pulpit in New York and made aliyah to Jerusalem. For many years he led the Hillel at Hebrew University, and did groundbreaking work bringing Arab and Jewish students together. He also founded this congregation, which drew many academics and intellectuals into its ranks with its modern and intellectually rigorous approach to Judaism. For many years Mevakshei Derech was the only congregation in Jerusalem in which women and men participated equally, and most Israelis thought of it as simply bizarre. Today Mevakshei Derech belongs to the small but growing Movement for Progressive Judaism in Israel, and has some company.
I knew Jack was speaking because – and here is one of the reasons that being in Israel is so enjoyable for me – our youth guide on the tour was an enchanting young Israeli named Tamar Cohen, and she is Rabbi Jack Cohen's granddaughter. Tamar's close cousins are also dear old friends of mine. At the Kiddush I met Tamar's mother who explained to me that she was a good friend of my sister-in-law Roberta, having been in the same class at Brandeis University. I like to say that I can't even get to 6 degrees of separation in Israel – usually by the first or second degree we are already connected!
I walked back to the hotel to lead some Torah study with our group. We sat in the garden again, and we basked in the warm winter sunshine and in our good fortune to be able to enjoy it. The Torah portion was Sh'mot, the very beginning of the Book of Exodus. I explained that the Hebrew name of the Book, "Sh'mot", means "Names". The book begins with a listing of the names of the children of Jacob/Israel who had gone down to Egypt. And then a new Pharaoh arose who stripped them of their names, seeing them only as a teeming mass of potential danger and a swarm of potential forced labor. One's name represents one's irreducible and unique humanity, and by treating the Israelites as a nameless mass Pharaoh could in his own eyes strip them of that priceless value, and view them as mere utilities for his own gain. This is quite simply the dynamic of oppression. On Friday our group had visited Yad Vashem, Israel's extraordinarily powerful national Holocaust memorial and museum. The Nazis had literally reduced the Jews to numbers, tattooed on their arms. Yad Vashem is on a quest to restore the names of the murdered dead; researchers have now identified 4,000,000 of the victims, and their records encircle the heartbreaking memorial room that one enters at the end of the museum. It is unlikely that every one of the six million will ever be identified, but the noble effort to restore each victim's name continues. Here in Israel (along with everywhere in the world) the forces of fear and racism encourage Pharaoh-like behavior in all of us.Other groups get subsumed into mass identities: "Death to the Arabs" is now heard in extremist Israeli rhetoric, while "Death to the Jews" has long flourished in much of the Arab media and halls of power. I explained that in my opinion democracy, however flawed, is the best system we have created to insure that each person retains a name and is endowed with inalienable human rights.Democracy is designed to fulfill the Torah's commandment that everyone be treated as a child of God, with dignity and respect. We Jews are not immune from becoming like Pharaoh. Israel's democracy acts as a check against tyranny, insisting against great pressure that every citizen, Jew, Christian, or Moslem, must be treated as a full human being. And if you think that's not hard enough, try doing it in the Middle East, where Israel is the only nation functioning as a democracy. (Remember the church bells and mosque call that I described the evening before? Israel is the only country in the Middle East that protects religious expression.) Now that the Jewish People have regained political power in Israel, we need to wield it wisely, so that we neither allow ourselves to ever again be reduced to nameless victims, nor ever become a Pharaoh to those under our control.
In the afternoon I went jogging. I jogged out to the Haas Promenade, a long ambling walkway with stunning views of the Old City of Jerusalem and its surrounding hills. Here I encountered another festival of impressions that make Jerusalem so fascinating. At the end of the Promenade I came to a beautiful overlook, and found myself catching my breath among an Israeli tour group. They were from a left-wing kibbutz near Be'er Sheva. Their guide was a very well spoken young Israeli man who is working for a solution to divide Jerusalem in an eventual two-state settlement. He laid out some of the well-known and reasonable proposals for sharing the city – but reasonableness has not been much in vogue for some time. Nonetheless, I enjoyed the interlude.
As I trotted back I came across several busloads of Nigerian tourists, Christians on their pilgrimage to the Holy Land. They were enjoying a picnic at another overlook. And then I passed three young women whose native country I could not guess. One of the women had a guitar, another was holding out a cell phone, and they were singing "Silent Night" into the cell phone at the top of their lungs. That made me smile.
I thought about all the Christian pilgrims in Jerusalem, following the footsteps of Jesus. And the Jewish pilgrims like our selves, tracking our sacred history among the ancient stones and walls of the Old City. And the Moslem worshippers, entering their holy mosques on the ancient Temple Mount, known to them as the Haram-al-Sharif, the Noble Sanctuary. Each of us walking in a different Jerusalem, our holy maps superimposed upon each other, crisscrossing and intersecting but never quite meeting. Earlier in the week our guide Aliza had taken us up a metal staircase to the rooftops of the old city, above the bustle of the shuk (market) below. From there we could see the highest spires, minarets and domes of the Old City, holy places all, crowded together in the one square kilometer contained within the ancient walls of Jerusalem. All those competing prayers rising up to the same heaven. The ancient Psalmist sings, and I still sing with him:
"I rejoiced when they said to me, let us journey to the house of YHVH!
Our feet would stand inside your gates, O Jerusalem,
Jerusalem, a city where all things converge…
Pray for the peace of Jerusalem, and may all who love you be at peace.
May there be peace within your ramparts, tranquility in your citadels." (Ps. 122)
After sundown our group gathered one last time in the hotel garden to make Havdalah, and usher in the new week. Israel comes alive on Saturday night, and folks scattered to various restaurants and other activities. I went back to Mevakshei Derech; as it happens, that night they were having the 12thannual Ezri Uval memorial lecture on Jewish Music. Ezri and his late wife Beth, who sadly just passed away, were dear friends of mine. I was hoping to see the 4 adult Uval children, whom I have known since they were little, and offer my condolences on their mother's untimely death. The Uvals were there, as I had hoped, and my mission was complete. But now I would have to sit through an academic talk in Hebrew on the history of synagogue chant in Germany! To my unexpected delight, the lecture was brilliant, punctuated with musical examples, and I even understood the jokes.
Now that was a Shabbat.
Shalom,
Rabbi Jonathan Kligler